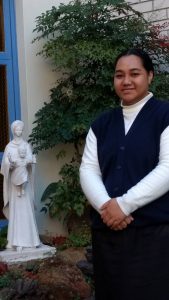 My name is Lalamea Vaohea and I come from the beautiful island of Tonga. I first discovered the Congregation of the Sister Disciples of the Divine Master on the Tongan Catholic Newspaper. The first thing that really caught my attention was the Monstrance. Just by seeing it made me realize that the Sister Disciples are centered in Jesus who is present in the Eucharist. So, I started to reflect deeply about these sisters and at the same time I really yearned to know more about the Congregation, about their way of life, their charism, spirituality and mission.  I decided to get in contact with the sisters and began communicating with them at first by email.  They sent me a pamphlet and told me to visit their website which had a lot of information about the congregation. I found it to be very interesting and I felt attracted to their way of life and mission. Over time I began to feel that God was calling me to this vocation and I to believe that this is where God was wanting me to follow him. In the meantime, I had to overcome a few challenges in order to pursue my desire to enter the Sister Disciples. The main difficulty I had was in obtaining a Visa to go to Australia for the Come and See program.  I had to wait for a very long time before being granted a Visa, but it was worth the wait. It was not an easy journey, but I knew that God was always there with me, helping me with his grace along the way. Now I am finally here, and I am truly happy to be on this journey of discipleship. Each day I am learning new things, especially of how to become a faithful Disciple of Jesus Master who is the Way, Truth and the Life.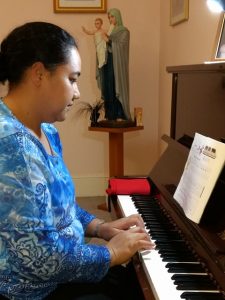 Advice
My advice for the youth of today is that if you want to follow your call don't hesitate to start communicating with The Sister Disciples or any other congregation which you may be interested in.  While you are discerning what God wants you to do, it is important to spend time with Jesus in prayer and in silence, he will somehow show you the way and encourage you in your decision. There will be a time when you will experience difficulties and challenges but be patient and do not give up easily. He will most certainly show the way for you.
One week of Blessings                                                                        
On Tuesday, 20 March 2018, I travelled to Melbourne together with Sr M. Catherine Attard, the Delegation Superior. It was a great joy for me to spend a whole week with our Sisters in Melbourne.
While I found this experience to be a real eye opener, I also felt that this experience was thought provoking as it helped me to see God's wonderful gift of the rich spirituality and mission within this Congregation.
It was a blessing for me to spend one week with the sisters and to share in their life and ministry. I tried to make good use of this time and to make the most of this special opportunity which was given to me in order to learn and to observe more closely their way of life and other aspects of their mission:
Prayer Life and Perpetual Eucharistic Adoration
Commitment to community life
Commitment in living an intense liturgical life
Service of Priestly Collaboration.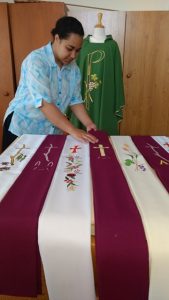 I observed that living within communities which are composed of different nationalities and cultures does present its challenges and that it is not always easy, however I also felt that the joy within these communities was evident especially because the sisters are always faithful to their prayer life and committed to their community life and mission. I was also struck by their warm hospitality when they welcomed people who came to the convent and Liturgical center.
I was very impressed and touched as I observed the loving care and attention that the sisters give to the elderly and sick priests in both Justin Villa and George Mather House. It was a joy for me to be with these wonderful priests who have given so many years of their lives in ministering with great dedication and zeal to God's people. I spent time praying, talking to them, helping to serve their meals and especially participating at the Holy Masses which they con-celebrated. It was a truly a memorable and magnificent experience!
I wish I could have spent a few more days with the sisters and Fathers as time passed so quickly.  Now the Visit is completed and as the saying goes: it is easy to say hi but hard to say goodbye!  I thank God for this wonderful experience and I am truly grateful to all the sisters for their warm welcome, their love and generosity as well as their assurance of continuous support and prayers. Thank you for making my visit so memorable! God Bless you all!!!